In the summer of 2010, besides yielding enough oil to effectively kill off part of the Gulf ecosystem permanently, B.P.'s oil spill also yielded some decent satire. This manifested most famously in the form of the BP Global PR feed on Twitter, which ended up in the oil company's aggravated sight-lines. Especially upsetting to the company was the fact that people were mistaking the satirical feed for an actual B.P. feed from their communications department.
Well now, Shell's getting it, too.
An "Arctic Ready" site of "Shell" is currently making the rounds on the Internet. It looks like it's by Shell, it's written in corporate rhetoric, and it has all of the features of a corporate attempt at social media (like a 'make your own postcard' section, and a game for kids).
Except, a closer look reveals something else: In the "game" for kids, you defend an oil rig from icebergs. On a page where "Shell" touts an arctic drilling platform, they explain:
On the slight chance that something does go wrong, Shell's spill cleanup plan is second to none. No one has yet fully determined how to clean up an oil spill in pack ice or broken ice—but that too is exactly the sort of challenge we love.
But best of all are the social media "postcards" that they created and that people are spreading around the web.
For example:
Or: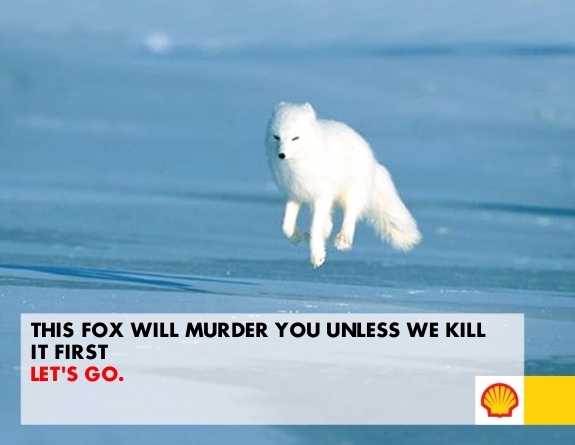 Or:
On a first look, they appear like something Shell put out, but an actual read would make you question if a company like Shell would have the gall to actually put out something like that.
Which gets you clicking. And so goes a canny awareness campaign like this. If successful activism takes more than just a message, now, these activists appear to most certainly have whatever that "extra something" is (which in this case, looks like astute and brilliant impersonation skills).
Check out what Shell's actual homepage looks like:
And the Arctic Ready homepage: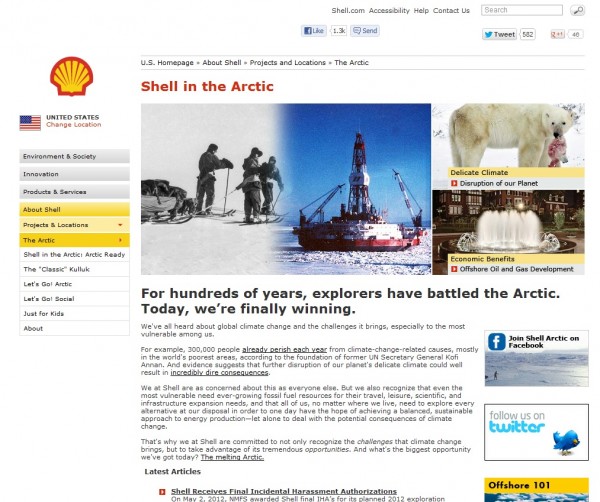 The real Shell site "help" page:
And the Arctic Ready "Shell" help page:
The entire thing is immaculately executed, and fairly hilarious, too. It's clearly some environmental group doing this, though the web registry only points to a privacy-proxy for a domain:
c/o ARCTICREADY.COM
P.O. Box 821650
Vancouver, WA 98682
US
Whoever it is, they're already fooling more than a few people, and are bound to upset the corporate PR brass at Shell. Something like this is bound to spread quickly, and fuel a little (misinformed) populist outrage along the way. So far, Shell's only issued this terse statement, hidden on their Alaska page:
Last week groups that oppose Shell's plans in offshore Alaska posted a video that purports to show Shell employees at an event at the Seattle Space Needle. Shell did not host, nor participate in an event at the Space Needle and the video does not involve Shell or any of its employees. A fake press release claiming that Shell is considering legal action following the launch of the video was also distributed to the media. Most recently the group sponsored a contest on a website asking people to create fake advertisements which appear to be from Shell. The ads, and a contest to create more of the ads, are not associated with Shell. We continue to focus on a safe exploration season in 2012.
New York City has entire armies of so-called social media are marketing consultancies that likely can't yield results like this after years of trying everything in their playbooks. Maybe they could take a page from these guys', whoever they are.
UPDATE: It looks like it's the work of Greenpeace, in conjunction with activist group The Yes Men.
fkamer@observer.com | @weareyourfek